Our approach
ACTM brings deep industry and functional expertise to the challenges our clients are facing. With our long track record in making change happen, we have developed approaches in mobilizing and enabling organizations that are unique, practical, and proven.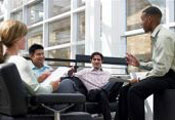 We work in deep partnership with our clients and speak our clients' language. We build capabilities and 'leadership' skills at every opportunity and level. We do so to help build internal support, get to real issues, reach practical recommendations. We encourage the capabilities of clients to fully participate in the process and lead after we leave.
ACTM does not believe in standard industry answers. We know that custom solutions yield the greatest competitive advantage and value for our clients. We ground each solution in how our client's organization actually works and in the client's unique position in the marketplace.
We ask our people to bring their best to our clients. We invest significantly in resources in building knowledge. In collaboration with each client, we help people and companies explore opportunities, manage and sustain growth and maximize revenues.
We are able to build true partnership. We do this through consistently exceed expectations with our services, our professional conduct and our complete dedication.